Create your own unique kids party!
We organize kids parties for boys and girls from 4 to 12 years old. We take care of a great party from A-Z, so you do not have to worry about preperations. Whether you like an active or relaxed party, a dance party or a though party, indoors or outdoors; it is all possible – also combined!
By choosing the activities yourself, the party will be exactly how you like it and you never have the same party as your friends have!
Choose from the following activities
Creating candy necklaces (6+)
How fun: creating a colorful and eatable necklace! Watch out, don't make it too pretty, otherwise you don't want to eat it anymore!
Cheerleader workshop (4+)
We will go through different elements of cheearleading during this festive workshop. A smashing performance with pom-poms will be created together!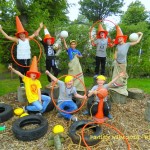 Bootcamp (6+)
For our though party kids: a bootcamp! Join the challenging games where we test your power and speed. All in game form. Powerrrr!
Games outside (4+)
Some games need much space, so for those we go outside. Together we start a relay. After this, everyone can choose whatever they want to do. Options are tennis, Old Dutch games, hockey, soccer, playing in the playground and more. Enough space to fully indulge!
Games inside (6+)
It is also very nice to play Old Dutch games inside! Everyone gets their own score card and goes through all kind of games. Think about darts, Met een gezellig muziekje aan en een scorekaartje worden verschillende spellen langsgegaan. Denk aan darten, shuffleboard, throwing cans and more Old Dutch games.
Bingo (4+)
4 t/m 12 jaarBingo You thought bingo is only for older people? Absolutely not! Our party boys and girls are very fanatical and make this an exciting game. And.. everyone wins a price! You can choose between picture bingo (for the little ones) and number bingo.
Real life TV show (7+)
A show like you see on TV with loads of humor and music and with both think games and active games. The show will end with a super exciting finale with everyone together. Spotlights on & let the fun begin!
Eating fries – the party way (4+)
Enjoy a table full of fries, snacks, sauces and an ice cream afterwards. We do it the party way: we don't use plates, but we spread the food all over the table (ssshhhh!!).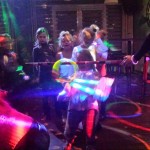 Disco (4+)
De The disco is a great activity for your party! The lightshow and smoke are impressive, so let yourself go on the best songs! If the party animals allow it, the grown-ups are also invited to the dance floor.
TIP: You can also celebrate your kids party together with friends!
Good to know
All our kids parties are private parties
All activities are supervised by us
The minimal number of children is 8
Limitless lemonade included for children
Drinks for grown-ups not included, but can be ordered and paid on the spot
We adjust the choosen activities to the children's age
If it's raining and you have choosen outside activities, we will Always make sure that there is an alternative activity inside. So the party always goes on!
The average of choosen activities is 4
Via a request form we will send you an overall picture of the party. This can easily and non-binding be requested (

request kids party

)
Quickly want to know if your preffered date is still available? Please send a text (SMS or What's App) to +31638704151.
Rates and duration
3 activities – € 17,- per child (2 hours)
4 activities – € 20,50 per child (2,5 hours)
5 activities – € 24,00 per child (3 hours)
Extra 30 minutes for own brought cake and unpacking gifts – € 25,-
Questions or other ideas?
Please send an e-mail to kinderfeestjes@rianto.nl and we will contact you as soon as possible.